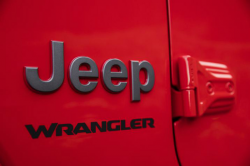 — Fiat Chrysler (FCA US) is recalling 106 model year 2018 Jeep Wranglers with rear seats that may detach in a crash.
Chrysler says the Jeeps may have been built with driver-side underbody ladder rails that can corrode due to a lack of corrosion protection. The automaker believes the Wranglers were built in a one-day period in October 2017.
Once the driver-side underbody ladder rail corrodes, it could cause a loose rear seat mount or reduced strength of the rear floor pan and allow two of the six attachment fasteners to fail.
The automaker says it's working on a plan to fix the problem, but 2018 Jeep Wrangler owners should watch for mailed recall notices in June.
Owners may call Chrysler at 800-853-1403. Chrysler's number for this recall is U27.