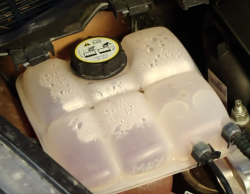 — A Ford coolant leak recall is set to begin for owners of Ford Escapes, Fiesta STs, Fusions and Transit Connects, with 2014 Escape SUVs first on the list.
The recall was first announced in March 2017 that covers about 230,000 model year 2014 Ford Escape, 2014-2015 Ford Fiesta ST, 2013-2014 Ford Fusion and 2013-2015 Ford Transit Connect vehicles.
The vehicles can overheat and catch on fire because a lack of coolant causes the cylinder heads to overheat and the heads to crack. This can cause pressurized oil leaks that can result in engine compartment fires.
At the time of the March 2017 recall announcement, Ford had recorded 29 such fires but no reported injuries.
All the vehicles are equipped with 1.6-liter EcoBoost engines, but when all the vehicles will be repaired is up in the air. Ford says parts are now available to complete the recall on Escape SUVs only.
The automaker is sending dealers information in January 2018 concerning when they can order parts and receive repair instructions to fix Fusion and Transit Connect vehicles. Then Ford will send bulletins to dealers in February 2018 concerning when parts will be available to repair the Fiesta ST cars.
Based on letters Ford sent to dealerships, technicians likely aren't looking forward to the recall after reading about the complexity of the repairs and how Ford has tried to make things easier for dealers.
The automaker says to help technicians, repair procedures have been divided alphabetically into multiple separate procedures, and replacement parts have been packaged into kits. Additionally, repair procedures come complete with a list of photos of the parts required and a list of "unique tools" needed to make the repairs.
Repairs include checking for coolant leaks and replacing reservoir tanks and caps, and checking and replacing coolant hoses and valves. Ford will also install coolant level sensors and reprogram software.
Affected owners may contact Ford at 866-436-7332 and ask about recall number 17S09.
CarComplaints.com has owner-reported complaints about the Ford vehicles named in the coolant leak recall: