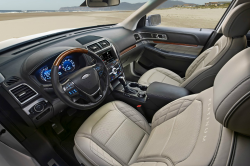 — Ford Explorer carbon monoxide concerns have caused a class-action lawsuit that alleges exhaust fumes and poisonous gas enters the cabins of the SUVs while driving.
Plaintiffs Suresh Persad, Daniel G. Wright and Robert S. Drummond filed the class-action lawsuit that includes all consumers in the U.S. who purchased or leased 2016-2017 Ford Explorers.
The SUVs allegedly have defective exhaust and HVAC (heating, ventilation and air conditioning) systems that allow carbon monoxide to sicken occupants.
Based on court documents, Ford allegedly concealed its knowledge of the carbon monoxide dangers while the automaker was swamped with complaints about exhaust fumes entering Explorer cabins.
Plaintiff Suresh Persad purchased a new 2016 Ford Explorer in Georgia, a vehicle he still owns. Persad says he detected exhaust fumes in the cabin and took the Explorer to a Ford dealer. Technicians allegedly drove the SUV but could find no evidence of exhaust fumes and said there was no need for repairs.
Pennsylvania plaintiff Daniel G. Wright says he purchased a used 2016 Ford Explorer only to suffer from headaches the past year due to exhaust fumes. The lawsuit doesn't say if Wright took his SUV to a dealer for repairs.
Plaintiff Robert S. Drummond purchased a new 2017 Ford Explorer in Pennsylvania, a vehicle he still owns. But Drummond claims he has detected exhaust fumes inside the SUV while driving. The lawsuit doesn't say if Drummond took his SUV to a dealer for repairs.
The plaintiffs claim multiple areas of the SUVs can allow exhaust and carbon monoxide fumes to enter the cabins:
Bumpers and/or tailpipes
Rear air extractors and auxiliary air conditioning systems
Drain valves in the liftgates
Sheet metal panels and overlaps
Joints and seems
The lawsuit references technical service bulletins (TSBs) issued to dealers from Ford, something the plaintiffs claim proves the automaker knew about the carbon monoxide concerns.
In December 2012, Ford issued TSB 12-12-4 informing dealers of complaints of exhaust fumes in 2011-2013 Ford Explorers.
In July 2014, Ford issued TSB 14-0130 to include model year 2014 and 2015 Ford Explorers. The updated bulletin told dealers that "[s]ome 2011-2015 Explorer vehicles may exhibit an exhaust odor in the vehicle with the auxiliary climate control system on. Customers may indicate the odor smells like sulfur."
TSB 14-0130 suggested the following repairs for dealers to try:
Reprogram the HVAC system
Replace the left side rear air extractor
Inspect the drain valves and install new drain valves if needed
Seal the rear horizontal sheet metal lap joints and the rear sheet metal overlap flanges
Apply undercoating to the auxiliary air conditioning lines and sealed areas
Neither TSB 12-12-4 nor TSB 14-0130 mention carbon monoxide dangers and the plaintiffs claim the numerous possible "fixes" shows Ford has no clue how to permanently repair the problems.
Although the TSBs had been issued and possible problems in Police Interceptor SUVs were allegedly caused by unsealed gaps and holes, in July 2017 Ford said "[d]rivers of regular, non-police Ford Explorers have no reason to be concerned."
The National Highway Traffic Safety Administration (NHTSA) got involved in 2016 and opened an investigation into exhaust odors in the cabins of 2011-2015 Ford Explorers. NHTSA then expanded the investigation while learning about hundreds of complaints about exhaust fumes and odors.
As of July 2017, NHTSA has received nearly 800 complaints of exhaust odors in 2011-2017 civilian and police Ford Explorers.
In response to the exhaust odor concerns, Ford reported 485 owner complaints, 1254 warranty claims, 606 dealer field reports and 55 legal claims that involved 2,051 SUVs. Some of those owners reported occupants getting sick from possible carbon monoxide poisoning.
The investigation continues, but NHTSA did report exhaust odors in Explorer Police Interceptors may be caused by cracked exhaust manifolds.
Ford told the judge the lawsuit should be dismissed because the Explorers are safe and customers are always welcome to take advantage of free programs to repair potential exhaust leaks. The automaker also argued the plaintiffs are alleging design defects in the SUVs, something not covered by warranties.
However, the judge said it's too early in the legal process to rule exactly what may be causing alleged exhaust fumes.
"At this stage of the litigation, plaintiffs' allegations are sufficient to sustain that the exhaust fume defect is covered by the applicable warranties." - Judge Terrence Berg
Ford also argued 2016-2017 Explorer owners must have known about possible problems due to publicity from possible exhaust problems in older Explorers, but the judge ruled the owners had no way of knowing.
In the end, Ford's motion to dismiss the Explorer carbon monoxide lawsuit was denied on every claim.
The Ford Explorer carbon monoxide class-action lawsuit was filed in the U.S. District Court for the Eastern District of Michigan, Southern Division - Suresh Persad, et al., v. Ford Motor Company.
The plaintiffs are represented by the Miller Law Firm, P.C., and Kessler Topaz Meltzer & Check, LLP.
CarComplaints.com has complaints about Explorer exhaust systems: