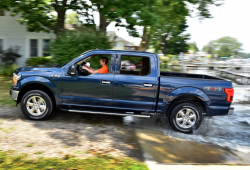 — A Ford F-150 Regular Cab and SuperCrew Cab fire investigation has been closed after the automaker agreed to recall about two million trucks.
The National Highway Traffic Safety Administration (NHTSA) opened an investigation into 1.4 million trucks after complaints about fires that occurred at the B pillars where the seat belt pretensioners are located.
Owners reported the fires didn't start until after the trucks were involved in collisions, with 17 of those fires reported in the U.S. and another six in Canada. Some of the fires self-extinguished while other trucks were fried to the frames.
Ford told NHTSA the front seat belt pretensioners were creating sparks when the pretensioners deployed beyond Ford's specifications. The automaker found the sparks, located in the exhaust gases of the pretensioners, could ignite components inside the B pillars such as insulation or carpet.
Engineers were puzzled by the fires and how the incidents occurred in different model year F-150 trucks with front seat belt retractor and lap anchor pretensioners manufactured by two different companies.
Joyson (previously Takata) made the pretensioners for 2015-2017 F-150s, and ZF is the manufacturer for 2018 Ford F-150s.
Investigators were also stumped when engineers at first couldn't replicate the B-pillar fires.
In September 2018, Ford recalled about two million 2015-2018 Ford F-150 Regular Cab and SuperCrew Cab trucks in the U.S., Canada and Mexico. The automaker told NHTSA that dealers would remove B-pillar insulation material and wiring harness tape and install heat resistant tape.
Safety regulators closed the Ford investigation based on the belief Ford's recall will be adequate to prevent pretensioner fires.
NHTSA also contacted Hyundai, Kia and General Motors requesting information about pretensioners used by those companies, but the government hasn't released information about those automakers.
CarComplaints.com has owner-reported complaints about the trucks included in the seat belt pretensioner investigation: