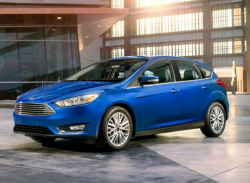 — A Ford Focus clutch recall has been expanded after drivers complained about clutch fractures in 2016-2018 Focus cars equipped with 1-liter Fox GTDI engines and 6-speed manual transmissions.
According to the automaker, a fractured clutch can damage the transmission assemblies and cause transmission fluid to leak onto hot exhaust surfaces. Contact with an ignition source may cause underhood fires, something that occurred in Europe on cars with similar transmissions used in U.S. cars.
The recall of more than 2,800 cars is an expansion of a March 2018 recall of Focus and Fusion vehicles due to fractures of the clutch pressure plates.
Ford says the cars can experience clutch slips that cause elevated temperatures that damage the clutch plates. This may cause the transmission housings and clutch covers to leak transmission fluid.
According to the automaker, clutch slip can cause the lining of the clutch to wear out early and affect the material of the pressure plate. Cracks at the outer edges of the clutch pressure plate can then occur from repeated heating and cooling cycles and create a lot of heat and energy into the plates.
A Focus driver may notice smoke or smells from the clutch and reduced performance if the clutch slips before the pressure plate breaks.
The automaker monitored European models and found reports of damaged clutch pressure plates on a vehicle equipped with a 1.5-liter engine and one equipped with a 1-liter engine and B6 manual transmission. Neither car had been included in previous actions taken by Ford due to clutch problems.
This led to the finding that additional cars were built with the same pressure plate problems in Europe but not included in previous recalls or campaigns. However, there was no evidence of additional problems on non-recalled cars in the U.S.
Ford says it isn't aware of any fires, crashes or injuries in the U.S. related to clutch issues.
The 2016-2018 Ford Focus recall is expected to begin January 7, 2019, when Ford dealers will update software that detects and prevents prolonged clutch slip. In some cases, technicians will replace the clutches.
Affected Ford Focus owners with concerns should call 866-436-7332 and ask about recall number 18S07.
CarComplaints.com has owner-reported complaints about 2016 Ford Focus, 2017 Focus and 2018 Ford Focus cars.