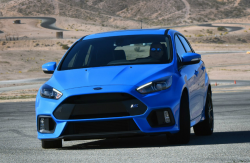 — Ford is recalling about 5,900 Focus and Fusion cars that could possibly catch on fire because of problems with the clutch pressure plates.
The recalled 2013-2016 Ford Focus cars are equipped with 1-liter Fox GTDI engines and B6 manual transmissions, and the recalled 2013-2015 Ford Fusion cars have 1.6-liter Sigma GTDI engines and B6 manual transmissions.
Ford says the clutch pressure plates can fracture due to the clutch linings wearing out prematurely. The premature wear and tear can cause the pressure plate material to wear down, allowing a large amount of heat and energy to cause cracks around the outer edges of the plates.
The risk of fires comes from leaking transmission fluid that could hit an ignition source in the engine compartments. However, Ford says it hasn't received any reports of fires or crashes related to the clutch plates.
The automaker says 5,357 of the cars are in the U.S. and 515 are in Canada.
Ford dealers will handle repairs in two ways based on which model is involved.
If you drive a Focus, the dealer will update the software to detect and prevent prolonged slipping of the clutch, in addition to checking the clutch and replacing it if needed.
If you own a Fusion, your Ford dealership will replace the clutch assembly.
The Ford Focus and Fusion clutch plate recall was announced the same day the automaker recalled nearly 1.4 million Fusion and Lincoln MKZ cars with steering wheels that can detach from the steering columns.
Focus and Fusion owners who have questions should call Ford at 866-436-7332 and ask about recall number 18S07.
CarComplaints.com has owner-reported complaints about the cars named in the clutch plate recall.