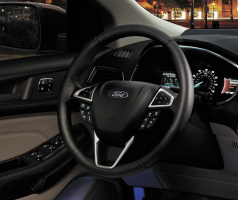 — Ford has agreed to settle a $299.1 million Takata airbag class-action lawsuit that involves the following models.
2007-2010, 2015-2018 Ford Edge
2006-2016 Ford Fusion
2005-2006 Ford GT
2005-2017 Ford Mustang
2004-2011 Ford Ranger
2015-2016 Lincoln MKC
2007-2010, 2016-2018 Lincoln MKX
2007-2016 Lincoln MKZ
2006 Lincoln Zephyr
2006-2011 Mercury Milan
The class-action lawsuit was filed in 2015 alleging Ford used defective Takata airbags in the vehicles, causing customers to be at risk even in slow-speed crashes. Exploding Takata airbag inflators have caused at least 23 deaths worldwide, with two of those fatalities that occurring in Ford Ranger trucks.
Although agreeing to settle the case without the court deciding right or wrong, Ford continues to deny all liability and wrongdoing concerning the vehicles. The automaker says it decided to settle to get the matter over with and avoid the cost of further litigation.
According to attorneys for Ford customers, the settlement offers several benefits to customers, but it's yet to be seen just how much customers will receive out of the deal.
The settlement program will be implemented over at least four years, but there is no date when customers may start to see any alleged benefits from the settlement because it still needs to be finalized and approved by the judge. In addition, it's possible customers could appeal the settlement terms by arguing the benefits are not good enough for drivers.
Included in the agreement is a reimbursement program for certain customers who could be reimbursed for "reasonable expenses" related to the Takata airbags. The proposed settlement provides the following reimbursement examples.
Unreimbursed rental car and transportation expenses while waiting for repairs from a Ford dealer.
Towing charges to a Ford dealer to replace the airbags.
Childcare expenses necessarily incurred while Ford replaced the affected airbags or parts.
"Reasonable lost wages" resulting from lost time from work directly associated with having recalled airbags replaced.
The proposed settlement also creates a "customer support program" to pay for repairs to correct any damaged or defective materials of the Takata airbag inflators. In other words, Ford will pay for repairs if the airbag deployed improperly and damaged the vehicle.
The settlement terms say the program will end for a customer once an airbag deploys normally in a crash. In addition, the program won't apply to inoperable vehicles or those with salvaged, rebuilt or flood-damaged titles.
The settlement will also create an "outreach program" to encourage customers to have their airbags replaced, using "traditional and non-traditional outreach efforts." The purpose of the outreach program is to convince customers of the dangers of driving vehicles with exploding Takata airbag inflators.
The outreach program will also provide unnamed "incentives" to Ford customers who have ignored Takata airbag recall notices. In short, people who were concerned for their safety and had their vehicles repaired after receiving recall notices won't receive an "incentive" for using common sense.
According to the settlement, there will also be incentives for dealerships that make airbag recall repairs, and even independent repair shops will receive incentives to refer Ford customers to dealerships.
As part of the settlement agreement Ford will create a rental/loaner car program, something it had already been doing with certain previous recalls. However, by creating the loaner program as part of the official settlement, Ford will receive a credit of $59.8 million off the total settlement amount.
Ford will provide a rental/loaner vehicle to any owner or lessee who brings a recalled vehicle to a dealership for completion of the Takata airbag recall. The loaner will be available to customers who have to wait for repairs or if there is a delay in dealers making repairs.
According to the settlement terms, affected Ford customers could receive payments of $250, but only if there are "residual settlement funds" that remain after paying for everything else mentioned in the agreement, including attorney fees and expenses.
The attorneys who sued Ford could receive more than $74 million, an amount that will be deducted from the $299 million settlement.
Learn more at the Ford Takata class-action lawsuit website.