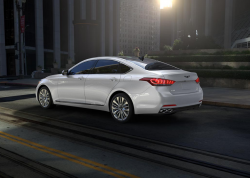 — More than 3,300 Genesis G80 luxury cars are recalled by Hyundai because of problems with the front passenger airbag occupant classification systems (OCSs).
The OCS system is used to detect what is in the front passenger seat: An adult, child or a child restraint. Unless an adult is in the seat, the frontal airbag shouldn't deploy because it could injure or kill the child. But Hyundai says faults in the system will allow a frontal airbag to deploy, slamming into a child in the seat.
Although the problems will affect a child, Hyundai says the passenger airbag will deploy correctly if an adult is in the passenger seat.
A routine inspection in June found three G80 cars that activated the passenger airbags while the seats were unoccupied, so engineers looked for any previous changes to the occupant classification systems.
The inspection showed an OCS recoding program used on the assembly line incorrectly reset the OCS calibration based on if the seats were heated or ventilated. In addition to airbag problems in the three cars still in possession of Hyundai, the automaker also learned about three warranty claims related to the systems.
However, there haven't been any reports of crashes or injuries in the U.S. caused by the airbags.
The automaker says the only warning a driver will have is seeing a message that says, "Passenger Air Bag OFF."
Hyundai will start notifying Genesis G80 owners on August 24, 2018. Dealers will reprogram the occupant classification systems, but owners may call 855-371-9460 and request information about recall number 002G.
CarComplaints.com has complaints about Hyundai Genesis cars.