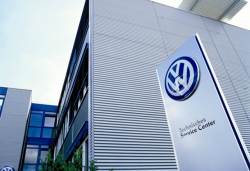 — Volkswagen has lost another $1.2 billion due to manufacturing and selling illegal vehicles for at least seven years.
The automaker had escaped heavy punishment from its home country of Germany, but German prosecutors finally stepped up and fined VW for emissions fraud.
According to prosecutors, Volkswagen created and installed illegal software to intentionally cheat on emissions tests conducted in the lab. Once on the road for routine driving, the software turned off emissions controls and allowed illegal levels of nitrogen oxides.
In court documents, prosecutors charge Volkswagen with failures to manage its employees and engineers, especially in the engine development department. By failing to properly oversee multiple departments, VW got away with the scheme until 2015 when U.S. university researchers found serious discrepancies in emissions levels.
German authorities claim they reached the $1.2 billion amount by trying to estimate the amount Volkswagen saved by cheating the government and customers.
Volkswagen says the fine will be another blow to the corporation but a necessary step to help restore trust in the company as the automaker works to deal with its past.
Although VW sees it as another step in rebuilding trust, shareholders in Europe are still chasing the automaker in court after losing money due to VW's lies. According to European court documents, Volkswagen could face billions more in losses if shareholders get their way in court.
In comparison to the U.S., Volkswagen has had it easy in Europe, even though most of the illegal vehicles are located there. The automaker has spent about $26 billion in the U.S. related to about 600,000 vehicles, while nearly 11 million affected vehicles are in Europe.
Volkswagen's emissions troubles are still being felt by the company in the U.S. where state and class-action lawsuits originally overwhelmed the automaker.
Days ago the state of Vermont reported VW would be writing a check for $6.5 million to the state for violating emissions laws, and last month the U.S. Justice Department charged former VW CEO Martin Winterkorn with conspiracy and wire fraud.