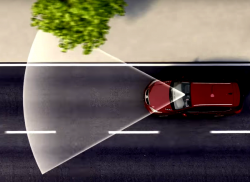 — General Motors vehicles equipped with automatic emergency braking and forward collision warning systems can reduce rear-end collisions by 43 percent compared to vehicles without front crash prevention systems.
And vehicles equipped with both features can reduce rear-end crashes with injuries by 64 percent, more evidence that certain safety features should be standard on all new vehicles.
GM describes its forward collision alert system as technology that detects when a frontal collision is imminent and alerts the driver to a potential crash. It can also provide a warning if a driver is following a vehicle too closely.
Automatic emergency braking, or what the automaker calls forward automatic braking, can automatically apply the brakes if the driver hasn't done so. A crash may not be completely avoidable, but the technology should at least reduce the crash impact. Furthermore, General Motors says its system can help a driver avoid collisions at very low speeds.
Researchers from the Insurance Institute for Highway Safety (IIHS) studied GM's technology as part of ongoing research involving vehicles from multiple automakers and how their safety technology fails or succeeds. IIHS used data from 23 states about police-reported crashes involving 2013-2015 Buick, Cadillac, Chevrolet and GMC vehicles.
In addition to the sharp reductions in crashes and injuries when forward collision alert and forward automatic braking were active, researchers saw a 17 percent drop in rear-end crashes when only forward collision warning was engaged. The single technology also reduced rear-end collisions with injuries by about 30 percent.
IIHS has seen similar results after testing vehicles from Chrysler, Honda, Mercedes, Subaru and Volvo, but not all new vehicles are equipped with frontal collision warning systems.
The government has been lax in mandating all new vehicles come standard with forward collision warning and automatic emergency braking, instead choosing to create voluntary guidelines an automaker can choose to ignore.
About 20 automakers have agreed to make the technology standard by 2022, but by December 2017 only four of 20 automakers equipped more than half their 2017 models with automatic emergency braking.
Although the technology can definitely save lives, some consumers say their systems caused more harm than good as seen in accusations made in a Nissan automatic emergency braking class-action lawsuit.