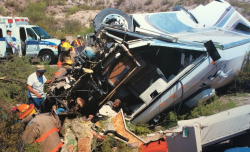 — Possible Goodyear G159 tire failure dangers may be entering the light as an Arizona judge ruled in favor of releasing to the Center for Auto Safety (CAS) previously confidential court documents.
The motorhome tires recently attracted the attention of federal safety regulators who opened a formal investigation in January 2018 seeking whether Goodyear has been concealing defects with the G159 tires.
The saga goes back to at least 2003 when 70-year-old LeRoy Haeger was driving his RV equipped with Goodyear G159 tires. A blown tire caused the RV to crash and severely injure Mr. Haeger, requiring 17 surgeries until his death from cancer in 2008.
Also injured in the crash were his wife, son and daughter-in-law, all who claimed a defective Goodyear tire was solely to blame.
The resulting lawsuit, Haeger v. Goodyear, was finally settled in 2017, but thousands of documents remained confidential until the Center for Auto Safety intervened and convinced the Arizona judge to make the documents public.
According to CAS, Goodyear has spent years in courtrooms to keep documents confidential, documents CAS says could prove the G159 tires are defective and dangerous.
Goodyear has argued previous court cases should remain sealed to prevent trade secrets and other confidential information from reaching the public and competitors, but the judge said he really only found one case where a previous court agreed.
In Schalmo v. Goodyear, a Florida judge ruled "Goodyear has legitimate interests in ensuring the confidentiality of documents requested in this case."
The Florida judge also determined the documents Goodyear requested sealed were "in fact trade secrets, the disclosure of which will cause Goodyear economic harm and/or place Goodyear at a competitive disadvantage."
The motorhome tires are no longer manufactured, but CAS and the National Highway Traffic Safety Administration (NHTSA) believe thousands of tires could still be on the roads. Based on documents released when NHTSA opened its investigation, the agency estimates 40,000 tires could be affected.
Although NHTSA said in January it had been left in the dark about the G159 tires due to court documents that were sealed by request of Goodyear, yesterday the agency sent a 13-page letter to the company requesting specific details about the tires.
Wrongful death and injury lawsuits allege hundreds of people have been killed or injured due to G159 tire blowouts, something NHTSA says it is aware of. Safety regulators have received allegations about two death or injury claims in 1998, four claims in 1999, six in 2000, eight in 2001, 18 in 2002 and 57 injuries or deaths caused by the tires between 2003 and 2015.
Regulators say Goodyear must provide data going back to 1996 about the G159 tires and must submit information related to the tires Goodyear used to replace the G159 tires, including the G670 tire.
Previous lawsuits have focused on how much heat the tires can handle at sustained highway speeds, and NHTSA has its own questions about previous statements Goodyear made about temperature levels.
Safety regulators refer to documents from 2005 that indicate the G159 tires could reach temperatures of 250°F, then NHTSA moves to a 2007 deposition where a Goodyear spokesman said:
"I don't want to indicate that 250 degrees is a line in the sand and say, under 250, okay, over 250, not okay ... But temperatures in that area in a tire that [has] a significant amount of shear stress going on in the composite, to me, in my experience, would ultimately lead to some kind of tire disablement, yes."
The agency gave Goodyear until May 4 to respond, or the tire company can request an extension no later than five business days before the due date.
NHTSA says if Goodyear is unable to provide all of the information requested by the original deadline, it must submit a partial response by the original deadline with whatever information the company has available, even if an extension has been granted.
CAS says it's time the public knows the truth about the tires because previous lawsuits claim hundreds of crashes are blamed on the tires, yet Goodyear has never recalled the G159 models.
In addition, a federal judge in a 2012 case found Goodyear made "repeated, deliberate decisions" to conceal documents and determined the company and two of its attorneys outright lied in court.
The Arizona judge ruled the public's right to know about potential safety risks far outweigh Goodyear's alleged need to maintain confidentiality concerning the G159 tires.
"That information -- primarily concerning the tire's design, its testing, the decision to market it for use on motor homes, and the adjustment data generated by consumer experience with it -- should be made public because it relates to and reveals a substantial potential risk to public health or safety." - Judge John R. Hannah
Read Judge Hannah's ruling here.