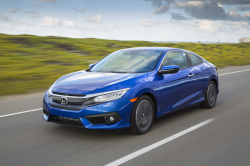 — Honda is recalling 13 model year 2018 Civics after someone thought, "what the hell, let's just put random characters on the certification labels."
Honda says the random characters appear in the area of the manufacturing date, something that could cause owners trouble when looking for info during recalls.
The 2018 Honda Civic recall should begin August 9, 2018. Dealers will replace the certification labels with writing that isn't frontier gibberish.
Owners may contact Honda customer service at 888-234-2138. Honda's number for this recall is U23.
CarComplaints.com has complaints about the 2018 Honda Civic and other Civic model years.