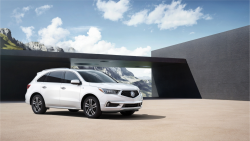 — Honda is recalling about 65,000 minivans and SUVs in the U.S. due to problems with the rear brake calipers.
The 2017-2019 Acura MDX, 2016-2019 Honda HR-V and 2018-2019 Honda Odyssey vehicles are equipped with rear brake calipers that experienced problems during manufacturing.
Honda says the surface of the caliper pistons may have high levels of hydrogen that can cause gas bubbles in the brake fluid. The gas can dissipate from the piston shortly after the vehicle is first used, and with the gas bubbles in the brake fluid the vehicle can suffer from reduced braking performance.
The automaker says it has received no reports of crashes or injuries related to the gas bubbles, but the chance of problems is there and Honda says the gas bubbles can violate federal standards.
Honda dealers will bleed the hydraulic brake systems to remove the gas bubbles once the recall begins December 17, 2018.
Owners may contact Honda at 888-234-2138 and ask about recall numbers C31 and L30.
Honda shouldn't feel alone concerning its braking problems because in July, BMW recalled 5,600 new vehicles for the same problems with the rear brake caliper pistons.
Read complaints from drivers of the Acura MDX, Honda HR-V and Honda Odyssey.