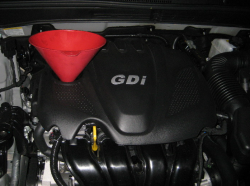 — A Hyundai/Kia Theta II GDI engine lawsuit alleges oil flow problems leave drivers stranded after the engines make noise and fail while driving.
The Hyundai and Kia vehicles included in the proposed class-action lawsuit are equipped with 2-liter and 2.4-liter GDI engines:
2011-2016 Hyundai Sonata
2013-2016 Hyundai Santa Fe
2011-2016 Kia Optima
2012-2016 Kia Sportage
2014-2016 Kia Sorrento
The lawsuit claims Hyundai and Kia owners now have vehicles with decreased resale values because of the Theta II engines that lose power, knock and stall. Both automakers have allegedly known about the Theta II engine problems for years but concealed that knowledge to continue selling the allegedly defective vehicles.
According to the lawsuit, the engines can fail because they aren't lubricated properly because of a lack of oil flow. The plaintiff says in some cases, such as her experience with a Kia Optima, the engines can catch on fire.
The lawsuit alleges owners and lessees complain to Hyundai and Kia about the engine problems, but the automakers routinely blame customers for failing to properly maintain the vehicles. Even when the warranties are allegedly still in force, the lawsuit claims dealers refuse to make free repairs to the vehicles.
Hyundai recalled about 470,000 model year 2011-2012 Sonatas in 2015 due to metallic debris around the engine crankshafts that cause problems with the flow of oil through the connecting rod bearings.
However, in May 2017, the National Highway Traffic Safety Administration opened an investigation into recalls of nearly 1.7 million Hyundai and Kia vehicles. The recalls were issued concerning engines that made noise and locked up, but safety regulators were concerned if the automakers took too long to recall the vehicles.
Hyundai told safety regulators about manufacturing problems that left metallic debris around the engine crankshafts that interfered with the transfer of oil through the connecting rod bearings, causing damage to the connecting rods and the engines.
The plaintiff says the Theta II engines make the vehicles unsafe to drive because of the dangers of the engines stalling while driving.
The Hyundai and Kia Theta II engine lawsuit was filed in the U.S. District Court for the Southern District of New York - Maryanne Brogan, et al., v. Hyundai Motor America et al.
The plaintiff is represented by Hecht Kleeger & Damashek, PC, and Levin Sedran & Berman.
CarComplaints.com has complaints about the vehicles named in the Theta II GDI engine lawsuit: