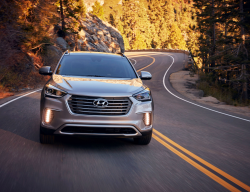 — Hyundai Santa Fe transmission problems have caused an owner to file a lawsuit alleging 2017 Santa Fe SUVs hesitate during acceleration.
The proposed class-action lawsuit includes all U.S. consumers who purchased or leased 2017 Hyundai Santa Fe vehicles.
Plaintiff Andre Damico says he purchased a 2017 Hyundai Santa Fe in May 2016 and within three months the transmission allegedly experienced delayed acceleration when taking off from a stop.
The plaintiff claims the hesitation also occurred when trying to pass another vehicle on the freeway, with the RPMs spiking but no acceleration from the vehicle.
Damico says he took the Santa Fe to a Hyundai dealership and was told the vehicle was working as intended and no repairs were needed.
According to the lawsuit, the transmission problems present safety hazards because the SUVs can't be trusted to do what drivers want them to do. The inability to accelerate during normal driving conditions causes hazards not only to occupants in the SUVs but also to other drivers on the road.
The plaintiff says he has been denied the benefit of driving safely in the Santa Fe and paid too much for a vehicle that Hyundai allegedly knew was unsafe.
The automaker has allegedly known about the transmission problems since at least 2016 based on warranty data, dealership repair orders and customer complaints.
Some of those 2017 Santa Fe customer complaints were submitted to CarComplaints.com.
"...when pushing on the gas pedal a bit faster the vehicle does not respond immediately. It hesitates then accelerates. It gets really bad when slowing to approximately 15 mph then pressing the gas pedal rapidly at about 1/3. It takes about 2 seconds before responding then all of a sudden it accelerates dangerously. It gets really dangerous on slippery pavement when turning left."
The owner says he took the SUV twice to dealers and was told nothing was wrong. But the driver believes dealers have no idea how to fix the problems and only tell customers the vehicles are normal because technicians don't know what to do.
"I had a 2008 Santa fe and was really satisfied with it. That is why I purchased another one. But if this not fixed I will never and I say never buy another Hyundai product."
Another 2017 Hyundai Santa Fe owner tells CarComplaints.com that pressing the gas pedal causes a "2 to 3 second delay before the transmission will suddenly downshift and we'll go blasting off."
"This is really dangerous, because we've had nearly a dozen instances of ending up extremely close to being nearly rear ended because the vehicle won't accelerate quickly enough. It happens when we get into the left lane on the freeway to make a quick passing maneuver and suddenly find ourselves unable to accelerate quickly enough to avoid being hit from behind, or similarly, where we'll make a left turn at an intersection and likewise be unable to accelerate fast enough to keep from being slammed into."
Based on court documents, the automaker hasn't recalled 2017 Hyundai Santa Fe SUVs to repair the alleged transmission problems, something that has caused the vehicles to lose their value. Hyundai also allegedly hasn't offered to repair all the vehicles or reimburse Santa Fe owners.
The 2017 Hyundai Santa Fe transmission lawsuit was filed in the U.S. District Court for the Central District of California, Southern Division - Andre Damico, et al., v. Hyundai Motor America.
The plaintiff is represented by Glancy Prongay & Murray LLP, and Greenstone Law APC.
CarComplaints.com has transmission complaints about 2017 Hyundai Santa Fe SUVs.