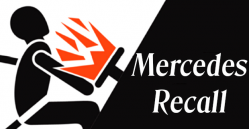 — Mercedes-Benz is recalling more than 132,100 vehicles as part of a Takata airbag recall expansion of 3.3 million airbag inflators at risk of exploding when they deploy, even in a minor crash.
The Mercedes passenger airbags are at risk of exploding due to a combination of age, moisture and the condition of the metal inflators. At least 21 people have been killed worldwide and more than 200 injured.
As of November 2017, 19 automakers had recalled about 46 million Takata inflators in about 34 million vehicles. By 2019, as many as 70 million Takata inflators will have been recalled in the U.S.
The National Highway Traffic Safety Administration (NHTSA) breaks down different parts of the country into "Zones."
2013 Mercedes-Benz C250
2013 Mercedes-Benz C250 Coupe
2013 Mercedes-Benz C350 Coupe 4Matic
2013 Mercedes-Benz C300 4Matic
2013 Mercedes-Benz C350
2013 Mercedes-Benz C350 Coupe
2013 Mercedes-Benz C63 AMG
2013 Mercedes-Benz C63 Coupe
2013 Mercedes-Benz E350 Cabrio
2013 Mercedes-Benz E350 Coupe
2013 Mercedes-Benz E550 Cabrio
2013 Mercedes-Benz E350 Coupe 4Matic
2013 Mercedes-Benz E550 Coupe
2013 Mercedes-Benz GLK350 4Matic
2013 Mercedes-Benz GLK250 Bluetec 4Matic
2013 Mercedes-Benz GLK350
2013 Mercedes-Benz SLS Coupe
2013 Mercedes-Benz SLS AMG GT Coupe
2013 Mercedes-Benz SLS Roadster
Those vehicles are recalled if they were sold or ever registered in the "Zone A" states of:
Alabama, California, Florida, Georgia, Hawaii, Louisiana, Mississippi, South Carolina, Texas, Puerto Rico, American Samoa, Guam, the Northern Mariana Islands (Saipan) and the U.S. Virgin Islands.
2010 Mercedes-Benz C300
2010 Mercedes-Benz C300 4Matic
2010 Mercedes-Benz C63 AMG
2010 Mercedes-Benz E350 Coupe
2010 Mercedes-Benz E550 Coupe
2010 Mercedes-Benz GLK350
2010 Mercedes-Benz GLK350 4Matic
The above vehicles are recalled if they were sold or ever registered in "Zone B" states:
Arizona, Arkansas, Delaware, District of Columbia, Illinois, Indiana, Kansas, Kentucky, Maryland, Missouri, Nebraska, Nevada, New Jersey, New Mexico, North Carolina, Ohio, Oklahoma, Pennsylvania, Tennessee, Virginia and West Virginia.
Then there are the vehicles recalled in "Zone C" states:
2009 Mercedes-Benz C300
2009 Mercedes-Benz C300 4Matic
2009 Mercedes-Benz C63 AMG
2009 Mercedes-Benz C350
Zone C states include Alaska, Colorado, Connecticut, Idaho, Iowa, Maine, Massachusetts, Michigan, Minnesota, Montana, New Hampshire, New York, North Dakota, Oregon, Rhode Island, South Dakota, Utah, Vermont, Washington, Wisconsin and Wyoming.
The passenger airbag modules will be replaced but Mercedes doesn't know when that will happen because parts aren't available. Owners will be sent interim notifications starting in February 2018 and second notices will be mailed when parts are available.
Owners may contact the automaker at 877-496-3691.
Keep up with the latest airbag news by checking out the CarComplaints.com Takata consumer guide.