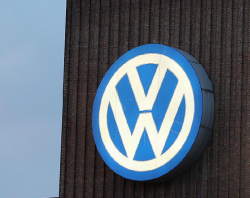 — Volkswagen has more emissions challenges in Germany as tough new government tests have left about half of VW's vehicles unable to be sold.
The new test is called the Worldwide Harmonised Light Vehicle Test Procedure (WLTP) and applies to all vehicles in the European Union.
In fairness, other German automakers are having their own problems meeting the challenging test, but Volkswagen's troubles have taken center stage because it was VW's cheating that caused the creation of the WLTP.
VW execs knew making its models compliant was going to take time, but possibly not the two to three times longer than emissions tests took in the past. Currently regulators have approved seven of about 14 models, with the Polo, Golf, Tiguan, Touran and Sharan still waiting for approval.
The popular Golf is costing the automaker money due to the delays, with VW saying certain Golf models may not be available to European consumers for another five months.
The slow-moving process caused Porsche to suspended orders and VW announced it would stop production a few days a week at one assembly plant until the end of September. Some Audi model variants have been approved while many others wait to be certified.
Volkswagen says the challenges are caused by the trouble it found itself starting in 2015 and the resulting investigations and recalls of millions of diesel vehicles. Management says engineers were too busy coping with the repairs of those vehicles to focus on the new strict emissions test.
Two well-known European Volkswagen brands, Seat and Skoda, haven't released which of their models have been delayed.