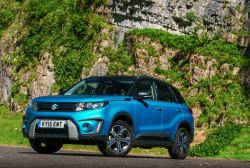 — A Suzuki SX4 power steering pump recall has been issued for nearly 18,700 model year 2012-2013 vehicles equipped with power steering pumps that may seize and cause a loss of power steering.
Suzuki says pressure in the power steering pumps can increase in cold weather conditions and cause the pumps to fail. The automaker received a report from Canada in April 2016 about a power steering pump that failed when the steering wheel was turned at low speed.
The supplier investigated and confirmed the cartridge sliding surface inside the pump had seized. In addition, more than 11.5 mg of sand was found inside the pump, although the supplier said any contamination above 5 mg is trouble.
On top of that, Suzuki was told there was no possibility that sand entered the pump during manufacturing, and the pump was a replacement pump for a Suzuki SX4 recall issued in 2015.
Although Suzuki has ordered the recall, the automaker admits it has no clue what is really causing the power steering pump problems and doesn't know what dealers will do to prevent the failures.
Federal regulators were told numerous aspects of the investigation are ongoing even after 42 failed pumps have already been inspected.
Suzuki doesn't know when the SX4 power steering pump recall will begin or what dealers will do to remedy the problem, but concerned owners should call the automaker at 800-934-0934.
CarComplaints.com has owner-reported complaints about Suzuki SX4 vehicles, as well as other Suzuki models.