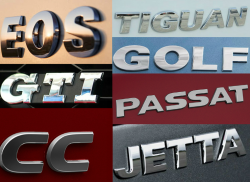 — A Volkswagen clock spring recall may have failed to do its job as owners continue to complain even after the vehicles were allegedly repaired.
The National Highway Traffic Safety Administration (NHTSA) has expanded an investigation into the 2015 clock spring recall of 420,000 VW vehicles that could experience driver-side airbag failures.
The expanded investigation includes more than 1.2 million of the following VW models:
2010-2014 Volkswagen CC
2010-2014 Volkswagen Passat
2010-2014 Volkswagen Eos
2010-2014 Volkswagen Golf
2010-2014 Volkswagen GTI
2010-2014 Volkswagen Tiguan
2010-2014 Volkswagen Jetta
2010-2014 Volkswagen Jetta Sportwagen
Volkswagen had ordered the 2015 recall after a federal investigation into 30,000 model year 2012 Volkswagen Passat and CC vehicles with clock spring failures caused by hair and other debris that entered the steering wheel hubs.
The steering wheel clock spring is a spiral-wound flat cable that keeps the airbag powered while the steering wheel is turned. But the debris can cause a displacement of the guide loops inside the springs and the out-of-position guide loops cause tension to tear the cables.
Owners reported noise coming from the steering columns, airbag warning lights illuminating on the dashboards and failures of the steering-mounted controls.
The owner of a 2013 VW Passat provides a good example of the type of complaints that continue even after the recall repairs.
"Multiple recalls on this car - worst has been the clock spring recall. Due to recall I took car in for clock spring repair 8/31/16. In September 2017 heard loud pop sound coming from steering wheel area and my air bag light came on."
The owner says she called the dealership and was told the problem was probably related to an airbag recall but it was safe to drive until replacement parts arrived.
"Late November 2017 horn quit working too. Got car into dealership in December 2017 for Air Bag recall and they replaced air bag, unfortunately that did not fix it. Dealership told me that it was a clock spring failure and would cost about $700 to replace clock spring. Tried to get Volkswagen to stand behind product and fix but they won't."
In November 2017, NHTSA opened a "recall query" after the agency received 90 complaints alleging failures of the clock springs, with several of the complaints filed by VW owners driving vehicles that were allegedly repaired.
In response to safety regulators, Volkswagen reported it received about 700 clock spring complaints about the recalled vehicles, adding to the 154 complaints filed directly with NHTSA.
The government's investigation will look at VW and its suppliers to determine why owners continue to complain about clock spring failures.
CarComplaints.com will update our website with results of the investigation.
Read what owners say about the VW models named in the clock spring investigation: