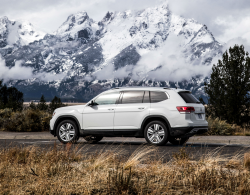 — Volkswagen Atlas and Passat SUVs and cars have brake bracket mounting bolts that could cause drivers to lose control of the vehicles.
More than 8,400 model year 2018 Volkswagen Atlas and 2017-2018 Volkswagen Passat vehicles have brake caliper brackets and bolts that may come loose and cause the brake calipers to move on the steering knuckles (Atlas front brakes) or on the axles (Passat rear brakes).
The problem can cause soft brake pedals, damaged wheels, longer stopping distances or possibly a loss of control.
Volkswagen first had problems with the coating used on the brake caliper pistons that caused reduced braking performance and soft brake pedals.
VW issued a recall in June 2018 for the caliper problems, but the automaker quickly received a complaint about a loose connection at the brake caliper on a vehicle that had been recalled.
More complaints were filed in July and August about loose bolts on vehicles that had allegedly been repaired, so apparently the problem wasn't there until dealers made recall repairs on the brake calipers.
A driver may first hear a rattling noise once the bolts come loose and next notice the brake pedal traveling too far.
Volkswagen dealers will inspect the brake caliper bracket bolts and replace affected bolts. In addition, dealers will check the brake caliper fasteners, bleeder valves and brake hose bolts and make sure they are tightened to specification.
Separately for only Passats, dealers will ensure the parking brake cable is connected properly.
The recall is expected to begin October 14, 2018.
Affected Passat and Atlas owners may contact Volkswagen at 800-893-5298 and refer to recall number 46H6.
Read what drivers tell CarComplaints.com about their Atlas and Passat vehicles.