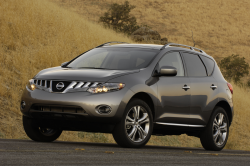 — A 2009 Nissan Murano recall related to brake fluid is the newest action taken by the automaker after multiple crashes were caused by soft brake pedals and increased stopping distances.
More than 86,200 Muranos are affected by the recall because brake fluids made with specific additives used to prevent corrosion may interfere with the anti-lock brake system hydraulic control units. This will cause the valves in the control units to not close properly.
Nissan has been involved in this soap opera for the past two years after the National Highway Traffic Safety Administration (NHTSA) opened an investigation in May 2017.
The defect investigation was upgraded in April 2018 following at least 14 crashes caused by problems with the ABS hydraulic control units. In addition, NHTSA found at least 480 complaints about brake problems in 2009 Nissan Muranos in addition to reports of injuries caused by increased stopping distances.
Nissan didn't think a recall was necessary because drivers allegedly never lost full braking performance, with the automaker taking the stance that an "unreasonable risk to motor vehicle safety" wasn't found.
However, the automaker did create a "voluntary service campaign" to allegedly repair the 2009 Murano SUVs. Dealers were told to inspect the ABS actuators and install new DOT 4 brake fluid after flushing the old brake fluid.
Nissan says a bad reaction between the brake fluid and the hydraulic control unit valves can form a gel-like material that keeps the valves, which are normally closed, to open and then slowly close. The gel can also harden and affect the springs that are used to return the valves to the closed positions.
Open valves will allow brake fluid to enter the accumulators and cause the brake pedals to travel more than normal as stopping distance are increased.
The 2009 Nissan Murano recall began February 7, 2019. Dealers have been told to flush the brake systems with DOT 4 brake fluid and test the hydraulic control units to check for stuck valves. Nissan dealers will also replace the hydraulic control units if necessary.
Murano owners with questions should call Nissan at 800-867-7669.
CarComplaints.com has complaints about 2009 Murano brake problems.