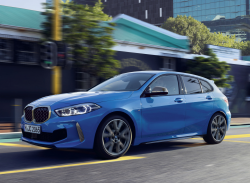 — A BMW 1-Series blower motor regulator recall has been issued for more than 50,000 vehicles to prevent overheating and fires caused by the regulator wire harnesses.
Included in the recall are 2008-2012 BMW 128i, 135i and 135is coupes and convertibles equipped with wiring and electrical connectors in the blower motor regulator wiring harnesses that may overheat.
In 2017, BMW recalled about 630,000 model year 2006-2012 BMW 3-Series vehicles for blower motor regulator problems.
Between 2018 and 2019, the National Highway Traffic Safety Administration (NHTSA) asked the automaker to provide updates and to meet with the agency regarding BMW's monitoring progress for other models with a similar design.
In May 2019, the automaker learned of the first field report involving interior damage to a 2011 BMW 135i convertible.
BMW says it hasn't received any reports of crashes or injuries, but the company didn't say how many fire reports have been received due to the regulators.
The blower motor regulator controls the fan speed of the heating and air conditioning system. BMW says problems with the crimp connection and movement of the connector can cause corrosion of the tin-coated regulator pin.
Running the fan on high combined with electrical resistance at the connector can cause overheating and damage to the wiring. The irregular flow of electrical current may cause a short-circuit followed by melting plastic and finally a fire.
Drivers should take notice if the heating and air conditioning systems suddenly stop working, in addition to being aware of the obvious symptoms of odors of burning plastic and seeing smoke inside the vehicles.
Nearly 42,000 1-Series vehicles are recalled in the U.S. and nearly 8,500 are recalled in Canada.
BMW says the recall is expected to begin September 27, 2019, when dealers will inspect the blower motor regulator wiring harnesses and replace them if needed.
Owners of the 1-Series vehicles may contact BMW at 800-525-7417.