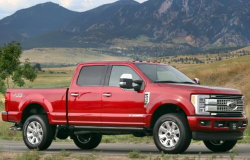 — A Ford "death wobble" class action lawsuit is being debated in court after the California plaintiff claimed Ford F-250 and F-350 trucks have defective suspension components that cause violent shaking.
The class action includes current and former owners and lessees of 2005-2019 Ford F-250 and F-350 trucks allegedly affected by defective suspension and steering linkage systems.
The plaintiff who filed the class action lawsuit alleges his truck suffered from the wobble but Ford didn't repair the vehicle even though it was under warranty. The lawsuit alleges he paid more than $1,500 to fix the vibrations and shaking, allegedly making the warranty meaningless.
According to the class action, F-250 and F-350 trucks wobble due to the damper brackets, shocks, struts, control arms and ball joints that prematurely wear out. However, the so-called "death wobble" typically comes from the pitman arms that cause drivers to feel the trucks shake and vibrate.
A big argument from the plaintiff is a list of complaints submitted to federal safety regulators from truck owners who claim the wobbling caused them to lose control of the vehicles. In addition, there are allegedly 12 reports of crashes and injuries caused by drivers losing control once the trucks started shaking.
The class action also alleges Ford typically denies it's responsible for the problems and instead blames lousy maintenance for any possible problems, even while the trucks are covered by warranties.
Ford filed a motion to dismiss the lawsuit by claiming the plaintiff has failed to allege facts sufficient to state a claim. The court also allegedly doesn't have personal jurisdiction for claims of non-California Ford truck owners and lessees.
According to Ford, the plaintiff has no legal right to assert claims under states other than his own state of California because of conflicts across state laws.
The automaker also told the judge the plaintiff filed his class action too late, waiting about five years past the warranty period.
Ford further argues the plaintiff drove his truck for about eight years before having the suspension worked on, something that shows the truck performed as advertised during the warranty period and beyond.
And although the plaintiff claims Ford must have known about the "death wobble," Ford argues the plaintiff purchased his truck in 2010 and the lawsuit never shows evidence the automaker had knowledge of alleged defects prior to 2010.
The Ford death wobble class action lawsuit was filed in the U.S. District Court for the Southern District of California - Lessin, et al., v. Ford Motor Company, et al.
The plaintiff is represented by McCune Wright Arevalo, and Sohn & Associates.
CarComplaints.com has owner-reported complaints about the trucks.