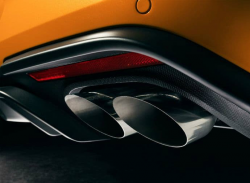 — Ford emissions processes are under a criminal investigation by the U.S. Justice Department, but the automaker was quick to say the investigation doesn't involve emissions "defeat devices" used to intentionally cheat emissions tests.
Employees at Ford first brought the matter to the attention of management, triggering an internal investigation into how emissions and fuel economy were measured and what methods were used for computer-modeling.
The Justice Department investigation concerns "issues relating to road load estimations" and if anything criminal occurred with how Ford measured emissions and MPG data.
Word of the federal criminal investigation arrived thanks to Ford's regulatory filing with the U.S. Securities and Exchange Commission (SEC) where the automaker warned, "we cannot predict the outcome, and we cannot provide assurance that it will not have a material adverse effect on us."
Ford told the SEC that numerous aspects of emissions systems are under evaluation, including engineering, technical and governance issues. As for how the automaker reaches its estimates concerning emissions, Ford says it is "evaluating potential changes to our road-load modeling process."
The automaker says the California Air Resources Board (CARB) and the Environmental Protection Agency (EPA) have been notified, in addition to multiple federal and state agencies.
Ford suffered from problems related to fuel economy estimates in 2014 when the automaker compensated customers for misrepresenting fuel efficiency ratings on six models.
If it's determined Ford intentionally cheated U.S. regulations, the automaker could be looking at huge penalties such as Fiat Chrysler recently paid to resolve federal claims of emissions cheating.
Without admitting wrongdoing, Chrysler agreed to pay $800 million for emissions violations related to about 104,000 Jeep and Ram vehicles.