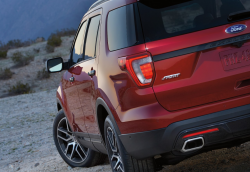 — A Ford Explorer recall for more than 1.2 million SUVs has been ordered so that dealerships can replace the left and right rear suspension toe links.
According to Ford, 2011-2017 Explorers may suffer from rear suspension toe link fractures that will cause drivers serious steering problems, including the chance of losing control.
Ford says one driver reported hitting a curb when the toe link broke, but the automaker says it's unaware of any injuries caused by the problems.
A Ford Explorer is more susceptible if the rear suspension often travels over a surface that causes the rear-end to bounce. However, the automaker told the government only about one percent of the recalled SUVs may be affected.
Between April 2017 and December 2018, Ford approved "service actions" for certain Explorers around the world because of "unique" road conditions that were causing higher rates of suspension toe link fractures. But reports concerning 2011-2017 Explorers remained very low.
Engineers continued to test the vehicles into May 2019 and allegedly confirmed the incidents of toe link fractures were low when the SUVs were used how they were designed to be driven. However, busted toe links were possible with drastic bouncing of the rear-end, what Ford calls, "jounce and rebound."
Ford says about 1.2 million SUVs are in the U.S., 28,000 are recalled in Canada and one Explorer will be repaired in Mexico.
The 2011-2017 Explorers were built in Chicago between May 17, 2010, and January 25, 2017.
Ford dealers will need to align the rear suspensions in addition to replacing both rear suspension toe links once the recall begins June 24, 2019.
Affected Ford Explorer customers with questions should call 866-436-7332 and refer to recall number 19S17.
Check out complaints from drivers of Ford Explorers: 2011 / 2012 / 2013 / 2014 / 2015 / 2016 / 2017