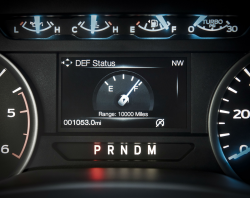 — A Ford mpg lawsuit alleges consumers purchased 2017-2019 vehicles with incorrect EPA fuel economy ratings which makes the trucks less fuel efficient than advertised.
According to the class action lawsuit, Ford performed inaccurate EPA fuel economy testing that resulted in overstated fuel economy ratings. Advertisements and vehicle window stickers were allegedly less favorable to consumers than buyers believed when they purchased the vehicles.
Customers have also allegedly been stuck with driving vehicles that cost them more money for fuel because Ford misled them into leasing and purchasing the vehicles.
Texas plaintiff Rosalynda Garza purchased a 2018 Ford F-150 in June 2018 with a window sticker that specifically said the estimated fuel economy was 19 city, 24 highway and 21 combined city/highway.
But Garza claims the truck has never received fuel economy even close to those numbers and wouldn't have purchased the F-150 if she would have known about the issue.
Another Texas plaintiff, Jeffrey Quizhpi, says he purchased a 2018 Ford F-150 in January 2019 with a window sticker that said the mpg rating was 19 city, 24 highway and 21 combined city/highway. Plaintiff Quizhpi says he shouldn't have bought the truck because it doesn't get the fuel economy indicated on the sticker.
Many similar mpg class action lawsuits have been filed against Ford because of a February 2019 press release issued by the automaker which said, "[i]n September, a handful of employees raised a concern through our Speak Up employee reporting channel regarding the analytical modeling that is part of our U.S. fuel economy and emissions compliance process."
The automaker said an outside firm was hired to investigate the vehicle road load specifications used in Ford's testing of emissions and fuel economy and would be "evaluating potential changes to our road-load modeling process, including engineering, technical and governance components."
The Environmental Protection Agency (EPA) immediately said Ford's investigation hadn't progressed enough for the EPA to reach any conclusions, but the agency was contacting the automaker to understand the circumstances behind Ford's announcement.
Ford hasn't released details about its fuel economy investigation or the results of the external probe, and in February the automaker said there was no evidence the window stickers were wrong. But this isn't the first time Ford has experienced problems with mpg estimates.
In 2014, the automaker lowered fuel economy ratings for the 2013-2014 Lincoln MKZ Hybrid, Ford C-MAX Hybrid, C-MAX Energi, Ford Fusion Energi and 2014 Ford Fiesta.
About 200,000 vehicles were leased or sold in the U.S., causing Ford to announce each owner and lessee would receive up to $1,050 as a goodwill payment. In addition, the EPA told Ford to update the mpg estimates and change the window stickers.
The Ford mpg lawsuit was filed in the U.S. District Court for the Eastern District of Michigan - Garza, et al., v. Ford Motor Company.
The plaintiffs are represented by Weitz & Luxenberg, Stull Stull & Brody, and Kantrowitz, Goldhamer & Graifman.