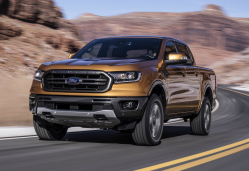 — A Ford Ranger gear shift indicator cable recall has been ordered for more than 2,700 model year 2019 Ranger trucks for rollaway dangers related to brackets that attach the transmission shift cables to the housings.
There are two fasteners that secure the transmission shift cable brackets to the transmission housings, but the fasteners may not have been torqued properly.
Loose brackets can cause loose gear shift cable brackets and leave drivers questioning the transmission gear selections.
A driver could see the gear shift indicator say the truck is in PARK when it's not. A driver will also be able to remove the ignition key even though the transmission isn't in PARK, and Ford says the driver will receive no warning chimes or messages.
The automaker also recalled Ford Fusions for similar rollaway problems linked to an injury and three property damage claims. But Ford says no crashes or injuries have been reported related to the gear shift problems in 2019 Rangers.
About 2,500 Rangers are recalled in the U.S. and another 260 are located in Canada, all built in Michigan in March 2019.
Ford dealers will torque the fasteners and inspect the gear shift assemblies, but until then Ranger drivers should always apply the parking brakes.
If you have concerns about your 2019 Ford Ranger, call the automaker at 866-436-7332. Ford's Ranger recall number is 19S15.
CarComplaints.com has owner-reported complaints about 2019 Ford Rangers and other model years of Rangers.