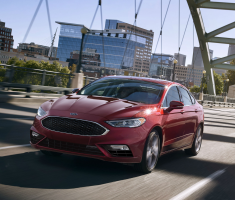 — Ford power steering problems have caused a recall of nearly 99,000 vehicles originally sold or currently registered in these U.S. states.
Connecticut, Delaware, District of Columbia, Illinois, Indiana, Iowa, Maine, Maryland, Massachusetts, Michigan, Minnesota, Missouri, New Hampshire, New Jersey, New York, Ohio, Pennsylvania, Rhode Island, Vermont, West Virginia and Wisconsin.
Joining those high corrosion areas in the U.S. are Canadian provinces which use road salt in winter months.
According to the automaker, 2013-2016 Ford Fusion, 2013-2016 Lincoln MKZ, 2015-2016 Ford Edge and 2016 Lincoln MKX vehicles are missing important coatings of wax.
Road salt causes rust and corrosion of the bolts for the steering gear motors, causing the motors to loosen and detach from the gear housings.
Although Ford says the steering gear motors may detach, the automaker says the motors will not completely separate from the vehicles.
The vehicle will lose power steering assist and will revert to manual steering, possibly a dangerous condition if it occurs while driving slow speeds.
Ford says 90,646 vehicles are in the U.S. and another 8,134 are in Canada.
Ford dealers will replace the steering gear motor bolts and apply wax sealer when the recall begins October 7, 2019.
Concerned customers may call 866-436-7332. Ford's number for this recall is 19S26.