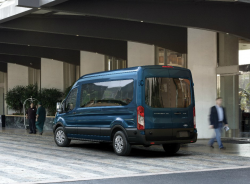 — A Ford Transit driveshaft recall permanent fix still hasn't been announced even though more than two years have passed since Ford originally recalled Transit vans to replace the driveshaft flexible couplings.
Although no permanent fix is available, Ford announced another recall because the Transit vans can suffer from separated driveshafts.
The vans could lose motive power or roll away when parked without the parking brakes engaged.
The 2015-2017 Ford Transits have driveshaft flexible couplings that may crack over time and cause noise and vibrations from the driveshafts. A driver who continues to drive the Transit van after hearing noise or feeling vibrations may be faced with a detached driveshaft.
In addition to losing motive power and rollaway vans, a separated driveshaft can cause damage to the brake and fuel lines as well as other components.
More than 319,000 Transit vans are affected by the driveshaft recall, including 293,558 vehicles in the U.S., 22,960 in Canada and 2,744 Transit vans in Mexico.
The automaker says it's unaware of any crash or injury reports related to the driveshaft flexible couplings.
According to Ford, the Transit vans were built in Kansas City between January 17, 2014, and June 15, 2017.
In 2017, Ford recalled about 400,000 Transit vans for the same driveshaft problems, telling owners interim repairs would be made until permanent repairs were available.
Dealerships installed enhanced driveshaft flexible couplings during the 2017 recall, and Ford now says it doesn't expect those couplings to "deteriorate sufficiently to result in driveline separation before 40,000 miles."
If a Transit has driveshaft flexible couplings with more than 40,000 miles, the couplings will be replaced every 40,000 miles until a permanent fix is available and completed.
The permanent fix for the recall involves new driveshaft front sections with mechanical U-joints to replace the driveshaft flexible couplings.
If you own a 2015-2017 Ford Transit van and have concerns, call 866-436-7332 and refer to recall number 19S38.
In addition to the driveshaft recalls, there have been a few class action lawsuits filed by owners because of the driveshaft flexible couplings, but both lawsuits were eventually dismissed.
CarComplaints.com has owner-reported complaints about Ford Transit vans.