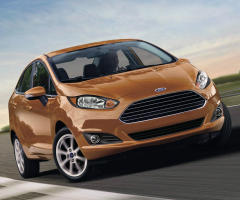 — A Ford transmission class action lawsuit settlement has been approved for past and current Canadian owners or lessees of 2011-2016 Ford Fiestas and 2012-2016 Ford Focus cars.
The vehicles are equipped with PowerShift dual-clutch automatic transmissions that allegedly slip, kick, jerk, buck and cause delayed acceleration.
The automaker denies any laws were violated and denies it did anything wrong. Ford also says the cars don't have safety defects, but by settling the case the automaker will prevent a long and expensive court battle.
Customers may be eligible for various benefits that include reimbursements and discount certificates.
Focus and Fiesta owners may be entitled to cash payments from $65 to $780, depending on the number of transmission service visits. If a Ford dealer replaced three or more qualifying hardware parts in the PowerShift transmission while you owned the car, you may be entitled to cash payments of $252 to $2,932.
In addition, a customer may receive a "vehicle discount certificate" ranging in value from $504 to $5,864, depending on the number of service visits.
The settlement terms also say reimbursement is possible if the vehicle had two or more clutch replacements performed under warranty and you had to pay for a clutch replacement after warranty. To be eligible the Focus or Fiesta must have been manufactured after June 5, 2013.
The settlement also describes "alternate benefits" designed to compensate owners who keep experiencing clutch malfunctions. Based on meeting the conditions, a customer may be refunded the cost of purchasing or leasing the car, less a reduction for usage of the vehicle.
To claim cash payments or discount certificates for transmission hardware replacements and software flashes which have already been performed, Fiesta and Focus owners must submit claims by December 23, 2019.
However, for hardware replacements and software flashes which occur in the future (up to seven years or 160,000 kilometres after the warranty begins), the claim must be submitted within 180 days of the service visit.
Lawyers for the plaintiffs will receive about $3.5 million.
Affected Fiesta and Focus customers in Canada who want to learn more or file claims should visit FordTransmissionClassAction.com.
CarComplaints.com has owner-reported complaints about Ford Fiesta and Ford Focus cars.