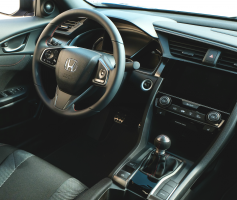 — Honda Civic electric parking brake problems, as well as gear shift and transmission problems, have caused a proposed class action lawsuit that includes 2016-2018 Civics.
The cars are equipped with continuously variable transmissions (CVTs) and are allegedly prone to roll away even though the gear shifters appear to be in PARK.
According to the lawsuit, electric parking brake problems occur because the parking brakes don't automatically activate when drivers exit the cars or when the driver-side doors are opened.
Plaintiff Patrick Rojas says he purchased a 2016 Honda Civic in June 2016 for about $23,500 from a Honda dealership in Florida.
In October 2018, Plaintiff Rojas had parked and when he returned to the parking lot the Civic had allegedly rolled about 20 feet from where he parked. The plaintiff says his car was dented over the front wheel from where the Civic hit a truck.
In November 2018, Rojas says he took the car for an inspection and told the Honda dealer about the rollaway incident, so technicians performed a software update for free.
The plaintiff says he is now afraid the Civic will roll away again so he refuses to park in crowded lots.
According to the lawsuit, the CVTs have defects that leave drivers guessing if the cars are in PARK even when the gear shifters say they are.
In 2016, Honda recalled about 350,000 model year 2016 Civics and said, "if the EPB (electric parking brake) isn't properly set and a parking gear is not selected by the driver, the vehicle could potentially roll away, increasing risk of a crash."
Honda dealerships were told to update the vehicle stability assist software so the electric parking brakes would engage when the vehicles were parked. However, the plaintiff says the software update didn't repair the rollaway threat.
Additionally, 2017 Honda Civic owners have complained about the electric parking brake problems, yet the automaker hasn't recalled those model year cars.
The plaintiff says nearly 1 million vehicles are at risk of rolling away because of the CVT problems even though Honda allegedly knows customers shouldn't depend on what the gear shifters indicate.
Customers also allegedly wouldn't have purchased the Civics, or would have paid much less for them, if the automaker would have acknowledged the transmission and gear shifter problems.
The Honda Civic gear shift and electric parking brake lawsuit was filed in the U.S. District Court for the Southern District of Florida - Rojas, et al., v. American Honda Motor Co., Inc., et al.
The plaintiffs are represented by Ahdoot & Wolfson, PC, Greg Coleman Law, and Whitfield, Bryson & Mason LLP.
CarComplaints.com has complaints about the 2016 Honda Civic, 2017 Civic and 2018 Honda Civic.