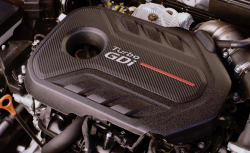 — Hyundai engine replacement recalls may have caused more harm than good for about 100,000 Sonata and Santa Fe Sport drivers as the automaker announces another recall for those vehicles.
According to Hyundai, about 100,000 model year 2011-2014 Hyundai Sonata and 2013-2014 Hyundai Santa Fe Sport vehicles may have damaged fuel lines caused when the engines were replaced during previous recalls.
Hyundai had recalled more than 1 million Sonatas and Santa Fe Sports in 2015 and 2017 to replace engines in 2011-2014 Sonatas and 2013-2014 Santa Fe Sports.
The automaker said there were machining problems when the engines were built, errors that caused metal debris to stay in the oil passages of the crankshafts. Then more problems were found from how the crankpins were manufactured with uneven surfaces.
Both problems caused restricted oil flow to the connecting rod bearings that eventually wore down prematurely and caused loud knocking noise. Drivers reported knocking engines, illuminated oil and engine warning lights as well as stalled or seized engines.
In some cases, drivers were introduced to the engine problems when fires popped up in the engine compartments.
Hyundai reports the newly recalled 100,000 vehicles all had their engines replaced but the fuel tubes may have been improperly torqued or misaligned. The automaker says it isn't aware of any fires caused by the fuel tubes, but the tubes go to the high-pressure fuel pumps and leaks and fires are not out of the question.
Hyundai hasn't said when the Sonata and Santa Fe Sport recall will begin, but dealers will inspect the installation of the fuel tubes and make sure the lines aren't damaged.
In addition to the recall, Hyundai has extended the warranties of the affected vehicles and created a customer service program to monitor engine problems.