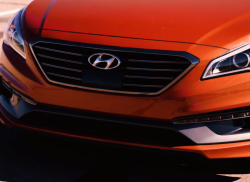 — A Hyundai engine warranty extension has been granted for all owners of 2011-2018 Sonata and 2013-2018 Santa Fe Sport vehicles due to knocking noise and engine failures.
According to Hyundai, the warranties are extended to 10 years or 120,000 miles because the vehicles may experience problems with metal debris that causes premature wear of the engine bearings.
In addition, the automaker created a "product improvement campaign" for about two million model year 2011-2018 Sonatas and 2013-2018 Santa Fe Sports. The vehicles will receive free software updates to monitor knocking engines and other conditions that precede engine failures, something Hyundai is calling "knock sensor detection systems."
The engine monitoring technology uses existing sensors to monitor engine vibrations that occur when the connecting rod bearings wear down prematurely. The automaker says vibrations are indicators the engines may seize and fail, or in some cases catch fire under the hoods.
The monitoring software will allegedly activate warning lights that will blink continuously as the vehicle enters "limp mode" to enter a period of reduced power and acceleration. In some vehicles drivers may also hear audible chimes when the vehicles enter limp mode to protect the engines and allegedly give drivers time to drive to Hyundai dealers.
Limp mode will keep maximum vehicle speeds to about 60 to 65 mph and engine rpm to 1,800 to 2,000.
The automaker says it knows the knock sensor detection technology works because the systems were tested and verified by an outside engineering and scientific consulting company.
Hyundai says the engine knock software updates include additional model years than covered by the recall, something the automaker says will "serve as a preventive measure."
The warranty extensions and knock sensor software programs were announced the same day Hyundai recalled about 100,000 Santa Fe Sports and Sonatas that had already been recalled in 2015 and 2017.
Owners who have questions about their 2011-2018 Sonatas or 2013-2018 Santa Fe Sports should call Hyundai at 800-633-5151.