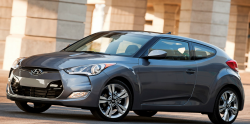 — A Hyundai Veloster fire recall has been issued for nearly 16,500 model year 2013 vehicles because of defects in the engine management software located in the electronic control units.
The fire danger recall follows an investigation by the National Highway Traffic Safety Administration (NHTSA) into 400 complaints about car fires. Many of those blazes started without impacts from collisions.
The 2013 Velosters are equipped with 1.6-liter turbo engines that can suffer from premature ignition of the air/fuel mixture in the engines, causing excessive cylinder pressure that may damage the engines. Damage to the engines will cause the vehicles to stall or will create perfect conditions for fires.
NHTSA contacted Hyundai in December 2018 with concerns about non-crash and stalling incidents in Veloster vehicles. Hyundai determined high-speed stalling events and fire reports dropped from model year 2014 vehicles forward. The automaker learned there had been a software update for the engine control units on 2014 Velosters.
According to Hyundai, the update was performed to revise the ignition logic to decrease engine piston noise. Engineers collected returned engines and concluded 2013 models were more likely to suffer from premature ignition and fires.
The 2014 software update apparently improved combustion and reduced the onset of pre-ignition in the engines.
The automaker didn't say how many Veloster fires have occurred but did claim no crashes or injuries are related to the engine problems.
Drivers may have advance warning of fires if they hear knocking noise from the engines, see illuminated warning lights or experience reduced engine power while driving.
The Hyundai Veloster fire recall will begin May 13, 2019. Dealers will need to update the engine management software, but concerned owners may call 855-371-9460.
Hyundai's number for this recall is 182.
CarComplaints.com has complaints from drivers of 2013 Hyundai Velosters and other model years of Veloster vehicles.