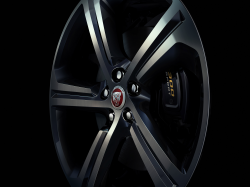 — Jaguar is recalling more than 240 F-Type sports cars because the tire labels are printed with the wrong information for the 18-inch rear wheels.
The recalled 2019-2020 F-Type cars have tire placard labels on the driver's side doors that contain the incorrect size for the rear tires.
Jaguar says an owner could try to install the wrong tires on the cars, and the wrong labels are also a violation of federal safety standards.
About 240 cars are recalled in the U.S. and four F-Types are recalled in Canada.
The Jaguar recall is expected to begin October 10, 2019. Jaguar dealers will replace the tire placard labels with the correct labels, but U.S. customers with questions should call 800-452-4827.
Jaguar's F-Type U.S. recall number is H256.
Canadian F-Type owners may call 800-668-6257.