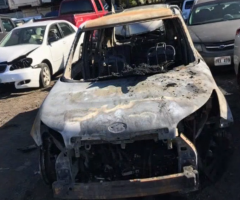 — A Kia Soul car fire lawsuit alleges a man and his mother went through hell when their rented Kia caught fire while the pair were driving on a Hawaiian highway.
Oklahoma native Jordan Carlton and his mother Becky were on vacation in Oahu and had rented a 2019 Kia Soul from Avis Budget Group.
The June 30 fire allegedly started under the Kia Soul and spread to the passenger compartment, forcing Becky Carlton to leap from the burning vehicle as it traveled about 40 mph.
Her son Jordan couldn't get out as quickly and suffered burns to about 85% of his body.
The lawsuit alleges Kia failed to warn drivers about the enhanced risk of non-collision fires, and Avis Budget Group did nothing to inform drivers about previous recalls issued over fire dangers.
Kia Souls were recalled for a risk of fires caused by overheating catalytic converters, but the recall didn't include 2019 model year vehicles. The automaker said the fire danger came from high exhaust gas temperatures overheated the converters and caused damage to the pistons.
In addition, engine combustion wasn't normal and the connecting rods could fail. Fractured connecting rods caused punctures to the engine blocks which caused oil to leak onto hot exhaust system components.
According to the lawsuit, Kia owners have filed hundreds of complaints about smoke, melted components and fires that occurred without collisions. Those fires got media attention which got the attention of members of Congress who requested a hearing with Hyundai/Kia.
Executives with both automakers declined to appear by claiming it wasn't fair other automakers weren't required to answer questions about fires in their models.
In response to the Kia Soul fire that seriously injured mother and son, Kia released a statement saying it recognized the serious nature of the injuries, especially to Jordan Carlton.
The automaker says it contacted the National Highway Traffic Safety Administration (NHTSA) for coordination of a joint inspection of the vehicle with Avis Budget and the attorney for the family.
Kia used internal staff from Korea and the U.S., as well as two independent fire experts, who joined NHTSA engineers for an inspection of the vehicle. The automaker says a second inspection is necessary because the fire caused so much damage an accurate conclusion couldn't be reached.
Kia says if the investigation shows a defect exists, the automaker will contact federal safety regulators and issue a recall.