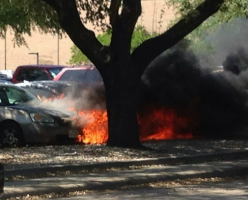 — Hyundai and Kia car fires have caught the attention of owners, safety groups, federal safety regulators and now members of Congress.
According to customer complaints, Hyundai and Kia vehicles are allegedly catching fire without collisions and at a rate much higher than cars from other automakers.
Ranking members of the U.S. Senate Commerce Committee want the head executives of Hyundai and Kia to explain how the fires are occurring, where in the cars the fires originate and what the automakers are doing to keep the public safe.
The National Highway Traffic Safety Administration (NHTSA) believes the fires originate from the engines, but federal investigators haven't reached an official conclusion.
Hyundai released a statement acknowledging the Committee's request to testify on November 14 and further emphasized the automaker monitors all reports of possible safety deficiencies, including non-collision fires.
Kia responded to the request by saying it will continue to voluntarily cooperate with both the Committee and NHTSA by providing data and documents in a timely manner.
Hyundai and Kia fires are possibly connected to problems with Theta II engines that have a history of customer complaints. The engines have caused multiple lawsuits, recalls, investigations and even a South Korean engineer jumped into the mess in 2016.
The 54-year-old Hyundai engineer allegedly blew the whistle about the Theta II engines by contacting U.S. safety regulators and claimed the automaker was concealing known engine defects.
The engineer told the National Highway Traffic Safety Administration (NHTSA) about engines used in Hyundai and Kia vehicles that knocked, lost power and made all kinds of noise.
Hyundai wasn't too pleased with the revelations and filed papers in court accusing the engineer of leaking secret corporate information.
Engine problems have caused both automakers to spend hundreds of millions of dollars to recall vehicles in multiple countries, including the U.S.
Hyundai announced a U.S. recall of about 470,000 Sonatas equipped with 2-liter and 2.4-liter gasoline direct injection (GDI) engines in 2015. At the time, Hyundai said it didn't believe a recall was needed because drivers received adequate warnings about possible engine trouble.
In Hyundai's opinion, stalled engines weren't considered a safety defect, but NHTSA responded that a stalled engine at high speeds was clearly a danger to safety.
Hyundai said metal was leftover from the time the engines were manufactured and the debris found its way into the engine oil. Owners complained about warning lights and loud noises coming from the Theta II engines, and an increase in warranty claims corresponded with the complaints.
Hyundai expanded its 2015 recall in 2017 by including another 572,000 vehicles with Theta II engines, and about the same time Kia recalled more than 618,000 model year 2011-2014 Kia Optima, 2012-2014 Sorento and 2011-2013 Sportage vehicles because the Theta engine bearings wore out too early and caused the engines to seize.
When asked why a recall wasn't issued in 2015 when Hyundai recalled its vehicles, Kia said its vehicles were suffering different Theta engine problems.
In addition to the recalls, Hyundai and Kia started receiving invitations to defend their Theta engines as owners flocked to the courts for relief.
The Theta II engines caused a 2015 lawsuit that alleged the 2.4-liter engines in Sonatas had a history of failures after metallic debris from the bearings contaminated the engine oil. The owner who filed the class-action claimed she paid about $3,000 to replace the engine after Hyundai refused to cover the cost.
Another lawsuit, this one filed against Kia in 2016, alleged Kia Optimas, Sportages and Sorentos were in the same condition as Hyundai vehicles because the Kia vehicles used the same 2-liter and 2.4-liter Theta II engines. And another lawsuit against Kia was filed after owners complained about damaged connecting rod bearings that caused the engines to fail.
Hyundai was sued again in a class-action that alleges 2015-2016 Sonata, Tucson and Santa Fe vehicles have defective engines filled with metallic debris.
But regardless of the lawsuits, NHTSA opened "recall queries" to determine if the automakers acted in a timely manner to recall nearly 1.7 million vehicles equipped with Theta II engines.
While all this action was taking place, owners were complaining about fires that raged even though the vehicles were parked.
In comes the Center for Auto Safety that petitioned the government to investigate reports of non-collision fires, something NHTSA agreed to do in August 2018.
The Center also says there have been more than 200 non-collision fires in popular Hyundai and Kia models, with at least 12 of those fires occurring in vehicles that had been included in the Theta II engine recalls.
According to the Center for Auto Safety, Hyundai and Kia should immediately issue recalls for nearly 3 million vehicles to finally fix any problems associated with non-collision fires.