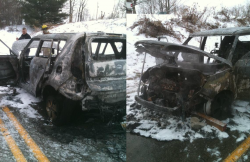 — A Hyundai Kia fire recall should be issued for nearly 3 million vehicles, according to the Center for Auto Safety that says the Kia Optima, Sorento, Soul, and Hyundai Sonata and Santa Fe are too dangerous to be on the roads.
The Center for Auto Safety (CAS) says there have been more than 220 complaints about non-collision fires that occurred in these model year Kia and Hyundai vehicles.
2011-2014 Kia Sorento
2011-2014 Kia Optima
2010-2015 Kia Soul
2011-2014 Hyundai Sonata
2011-2014 Hyundai Santa Fe
CAS submitted a petition to the National Highway Traffic Safety Administration (NHTSA) in June 2018 asking the government to check into reports of non-collision Hyundai and Kia fires.
Between June 12 and October 12, 2018, the Center learned of 103 additional fire reports, but NHTSA had already relented and opened an investigation in August. Safety regulators said they would investigate about 2.2 million Kia and Hyundai vehicles by looking at owner-reported fire complaints and early warning data submitted by the automakers.
CAS says Kia and Hyundai have done nothing but provide empty statements about working directly with vehicle owners who report fires. In addition, both automakers seem to be waiting for NHTSA to conclude its investigation to determine if additional actions should be taken.
The Center says a full recall of nearly 3 million vehicles is the only way to protect consumers from non-collision fires.
A new recall may be even more important considering CAS knows of at least 12 fires that occurred in vehicles that had already been recalled due to engine-related problems.
Hyundai and Kia previously recalled more than 1.6 million vehicles for engine problems that could cause fires due to metallic debris left after the engines were manufactured, debris that entered the engine oil and damaged components such as the connecting rods.
Hyundai recalled about 470,000 Sonatas in 2015 and in 2017 added another 572,000 vehicles equipped with the same Theta II engines.
Kia also recalled more than 618,000 vehicles in 2017 because the engine bearings wore out too early and caused the engines to seize.
NHTSA opened "recall queries" after problems popped up in vehicles that were allegedly fixed by dealers and NHTSA's preliminary review of complaints indicated the fires appeared to be related to the engine failures that occurred in vehicles named in previous recalls.
CAS says it's concerned about those recall queries because NHTSA's Deputy Administrator Heidi King sent a letter to Florida Senator Bill Nelson suggesting the two ongoing recall queries were likely good enough to determine the source of the non-collision fires.
According to the Center, the letter said the federal recall queries covered the "majority of the non-collision fire related complaints received by NHTSA on the vehicles referenced in the (Center) review." However, CAS points out not all 2011-2014 Kia Sorentos were included in the engine recalls and the Kia Soul wasn't included at all.
The Center for Auto Safety admits cars from every manufacturer can catch fire without need of collisions, especially considering all the wiring and electronics in modern vehicles. But CAS says the high number of Kia and Hyundai fires prove what is occuring isn't anywhere near normal and a full recall of all the models is necessary to protect public safety.
CarComplaints.com has complaints about the Hyundai and Kia vehicles CAS wants recalled: