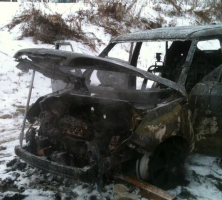 — Hyundai and Kia fires are getting more federal attention as the government says it will look at complaints and data following a petition to investigate potential non-collision fires in 2.2 million vehicles.
2011-2014 Hyundai Santa Fe
2013-2014 Hyundai Santa Fe Sport
2011-2014 Hyundai Sonata
2011-2014 Hyundai Sonata Hybrid
2011-2014 Kia Optima
2011-2014 Kia Optima Hybrid
2011-2014 Kia Sorento
The National Highway Traffic Safety Administration (NHTSA) was already looking into recalls ordered by Hyundai and Kia to determine if those actions solved problems with engines that locked up.
NHTSA says its preliminary review of owner complaints indicate the majority of reported fires appears to be related to the engine failures that occurred in vehicles named in previous recalls.
Hyundai recalled about 470,000 Sonatas equipped with 2-liter and 2.4-liter Theta II engines and later added another 572,000 vehicles with the same engines.
Kia also recalled more than 618,000 Optima, Sorento and Sportage vehicles because the engine bearings wore out too early and caused the engines to seize.
Hyundai and Kia said metallic debris was left after the engines were manufactured, debris that entered the engine oil and damaged components, including the connecting rods.
The petition referred to by NHTSA was submitted by the Center for Auto Safety (CAS), a nonprofit safety organization that saw serious problems with an unusually high number of engine fires in the Hyundai and Kia vehicles. CAS argued safety regulators needed to open a defect investigation because of complaints like these.
"After driving 8 miles to my destination I parked the car and turned off the engine. I immediately saw and smelled smoke coming from under the hood. I got out, called 911, and began to see flames. The police arrived in less than 5 minutes but by then the hood of the car was on fire and by the time the firefighters arrived the car was completely in flames. It was just into the dealer 2 weeks ago" - 2011 Kia Sorento owner
"My 2014 Hyundai Sonata caught fire, with little warning, while driving down the interstate. My husband and I heard a noise that sounded like a piece of loose plastic. By the time I tried to pull over, the car shut itself off and the dash lights all came on at once. Prior to that, no warning. The fire quickly raged through the entire car. The fire department was not able to save the car. This happened a week ago and after numerous calls to Hyundai, nothing." - 2014 Hyundai Sonata owner
Those are just two complaints out of more than 350 owner reports of fires, melted wires, smoke or burning odors coming from the Hyundai and Kia vehicles. The Center for Auto Safety and NHTSA are concerned by the non-collision aspect of the fires and how many times they have occured without drivers receiving any warnings.
In addition, drivers sometimes hear noises before seeing smoke and flames but don't realize how serious the noises are until after the vehicles are burning.
The government says it will look at early warning data submitted by Hyundai and Kia, look at owner-reported complaints about the vehicles and also research responses to vehicle owner questionnaires.
CarComplaints.com will update our website with results of NHTSA's actions. Until then, add your complaint about your vehicle or read what owners say about the Hyundai and Kia vehicles.