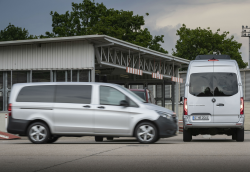 — A Mercedes-Benz Metris investigation has been closed by federal safety regulators after the automaker agreed to recall model year 2016-2017 vans.
The National Highway Traffic Safety Administration (NHTSA) opened the investigation in March 2018 following complaints about fuel hose leaks in the engine compartments of model year 2016 vans.
Mercedes says the vans were having problems with the upper hose connections that feed gas to the high-pressure fuel pumps. Fuel leaks occurred both at the upper hose connections and the lower connections of the fuel hoses between the underbody fuel lines and the Shrader valves.
The automaker found the material of the hose wasn't holding up to heat that caused premature aging and a loss of elasticity. In addition to a loss of elasticity, thermal aging of the hose causes a problem with sealing in low temperatures.
Meredes-Benz also determined another problem existed with the hose clamps that weren't installed with the correct tools.
NHTSA received nine complaints about the hoses, with eight complaints filed by owners who said the problems occurred in cold temperatures when the engines were warming up.
The automaker announced in December 2018 about a recall of 12,383 Metris vans to replace the upper and lower fuel hoses and clamps, procedures NHTSA believes will fix the fuel leak problems.
Although safety regulators have closed the Metris investigation, NHTSA will monitor the results of the repairs to ensure the recall did the job.