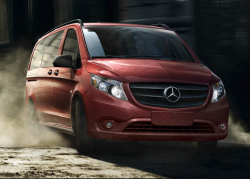 — Mercedes-Benz is recalling nearly 17,000 model year 2016-2019 Mercedes-Benz Metris vans because of problems that could cause battery short circuits.
The backup battery compartment is located underneath the front passenger's seat and should be covered, but the vans may be missing the covers.
This can expose the battery when the seat is moved forward, allowing any objects dropped into the opening to make contact with the terminals. Any conductive material such as metal may drop onto the terminals and cause a short-circuit and possibly a fire.
Mercedes says it found a Metris van with a missing seat base cover for the backup battery in 2016 and traced the mistake to documentation errors.
The automaker believed the problem was isolated and not a safety risk, but another report was received from China in February 2018. An inspection determined a flexible water hose with stainless steel ends was found between the positive battery pole and the body of the van.
This caused a short-circuit and a fire under the front passenger seat, even though engineers had concluded that wasn't likely to occur.
Mercedes-Benz says U.S. vans probably won't suffer from any problems, but the automaker says a recall will ensure no problems occur. Mercedes says it knows of just the one fire, but no injuries have been reported.
About 15,160 Metris vans are affected in the U.S. and nearly 1,800 vans are recalled in Canada.
Mercedes-Benz dealers will retrofit and install the seat base covers used to protect the backup batteries once the recall begins in the U.S. November 22, 2019.
Affected Metris customers in the U.S. may call 877-762-8267 and refer to recall number VS2SITZAB.
Metris customers in Canada who have questions should call 800-387-0100.