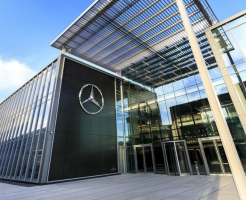 — A Mercedes-Benz radiator lawsuit has been dismissed after the plaintiff failed to convince the judge that radiators in 2004 and earlier C-Class and CLK-Class vehicles are defective.
According to the plaintiff, coolant mixes with transmission fluid and damages the torque converters and transmissions.
The lawsuit references a technical service bulletin (TSB) Mercedes issued to dealerships in 2006 about radiators manufactured by Valeo that could cause the fluids to mix.
The defective radiators mentioned in the TSB could cause "sudden and unexpected breakdowns and mechanical failures."
The bulletin also told dealers customers could complain about "humming/buzzing noises or noticeable harsh engagement during gentle acceleration."
The proposed class action lawsuit says Mercedes hasn't offered customers free repairs or replacement, ignores the issue of reimbursements and has refused to recall the vehicles.
In addition, the plaintiff says owners were faced with thousands of dollars in repair bills to replace the radiators, torque converters and transmissions.
In its motion to dismiss the suit, the automaker told the judge Mr. Garick still owns the C320 and drove his Mercedes for 12 years before alleging the radiator had problems.
Lawyers for Mercedes also say the plaintiff is under the false impression that dealers should make free repairs well beyond the warranty periods.
In dismissing the case, the judge ruled the plaintiff can't prove Mercedes committed fraud simply by showing some vehicles had radiators that eventually had problems.
The Mercedes-Benz radiator lawsuit was filed in the U.S. District Court for the District of Massachusetts - Garick, et. al., v. Mercedes-Benz USA LLC.
The plaintiff is represented by the Law Offices of Joshua N. Garick.