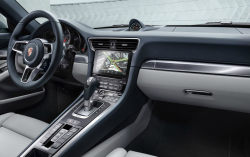 — A Porsche airbag control unit recall has been issued for more than 8,000 model year 2016-2017 Porsche 911s and Boxsters, and 2016 Caymans and Panameras.
Porsche says the electronic control units (ECUs) may have faulty power supply capacitors that can deactivate the airbags or even cause the airbags to inadvertently deploy.
The airbag control units were manufactured by ZF-TRW, a company responsible for multiple lawsuits and a titanic federal investigation involving more than 12 million vehicles. However, Porsche isn't named among the automakers with vehicles under investigation.
ZF isn't the only company involved because although it's their airbag control unit, the out-of-specification power supply capacitor was supplied by a company called KEMET.
According to Porsche, the technical aspect is described as a capacitor that "may lead to a power deviation within the airbag control unit due to a changed equivalent series resistance (ESR)." In less fancy terms, electrical overstress causes the airbags to fail, or to deploy when they shouldn't.
Porsche says no crashes or injuries are known to have occurred due to the airbag control units.
More than 7,500 of the recalled vehicles are in the U.S., and 550 are recalled in Canada.
The airbag control units will be programmed with optimized software so that if faulty power supply capacitors are identified, the airbag control units will be replaced.
The Porsche recall is expected to begin in the U.S. on September 15, 2019.
If you drive a 2016-2017 Porsche 911 or Boxster, or a 2016 Cayman or Panamera, you can get more information by calling 800-767-7243 and referring to recall number AKB4.
CarComplaints.com has complaints about the Porsche 911, Porsche Boxster, Porsche Cayman and Porsche Panamera.