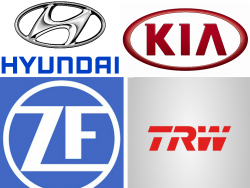 — Hyundai and Kia airbag failures have caused a proposed class action lawsuit that alleges airbag control units manufactured by ZF-TRW are defective in the following vehicles.
2013 Kia Forte
2013 Kia Forte Koup
2013-2019 Kia Optima
2012-2016 Kia Optima Hybrid
2014 Kia Sedona
2013-2019 Hyundai Sonata
2013-2019 Hyundai Sonata Hybrid
The lawsuit was filed just days after federal safety regulators announced they were investigating more than 12 million vehicles from multiple automakers, including Hyundai and Kia. In addition, both Hyundai and Kia have recalled vehicles because of airbag failures related to ZF-TRW airbag control units.
According to the lawsuit, the defect is found in the "application specific integrated circuit" (ASIC) which experiences electrical overstress generated in a crash. The airbags and seat belt pretensioners will fail to deploy, a problem the lawsuit alleges has existed since at least 2011.
The plaintiffs claim Hyundai and Kia knew about the defective ZF-TRW airbag control units in 2011 but allegedly chose to conceal that knowledge until 2018.
Even when the automakers informed the National Highway Traffic Safety Administration (NHTSA) in 2015 about airbag failures, both companies allegedly made it appear the problems weren't too serious.
Hyundai finally ordered a recall of 735,000 Sonatas in 2018 even though the automaker wasn't sure how the problem would be repaired. A few weeks later NHTSA opened an investigation after airbag failures caused six injuries and four fatalities.
Kia followed with a recall of 507,000 vehicles for the same airbag failure problems, and likewise didn't know what kind of recall repairs would be performed.
The lawsuit alleges ZF-TRW, Hyundai and Kia are all guilty of putting consumers at risk of injury and death by allegedly putting profits before safety. Additionally, the plaintiffs claim while airbag failures did finally lead to recalls, both automakers chose to recall only a fraction of the vehicles at risk.
None of the named plaintiffs claim their vehicles suffered airbag failures, but the lawsuit alleges their vehicles have lost value because of the airbag control unit problems.
The Hyundai and Kia airbag failure lawsuit was filed in the U.S. District Court for the Central District of California, Southern Division - Michael Hernandez and Tammy Tyler, et al., vs. Hyundai Motor America, Inc., et al.
The plaintiffs are represented by Baron & Budd, and Lieff Cabraser Heimann & Bernstein.