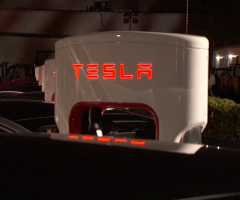 — Tesla battery range miles allegedly dropped after the automaker sent out over-the-air (OTA) updates to help prevent battery fires in Tesla Model S and Model X vehicles.
The claim is made in a defect petition submitted in September to the National Highway Traffic Safety Administration (NHTSA) asking federal safety regulators to open an official defect investigation.
According to the petitioner, 2012-2019 Tesla Model S and Model X vehicles saw their battery range miles drop beginning in May 2019 when the OTA updates were sent for the battery management software.
Several Tesla crashes are currently under federal investigations as regulators try to learn more about electric vehicle fires caused by the batteries.
In addition, battery-related fires have allegedly occurred in Tesla vehicles when they were parked, and lawsuits have been filed alleging the batteries are too dangerous to be installed in the vehicles.
The petitioner also says Tesla should have warned NHTSA about software updates that decrease the driving range of Model S and Model X vehicles.
According to a lawsuit filed about the over-the-air updates, Tesla forced customers to accept the updates but failed to inform owners about possible negative effects that could follow. The class action alleges that not only did the updates reduce battery range, but Model S and Model X vehicles suffered limited charging speeds of the batteries.
The plaintiff claims Tesla explained the updates were sent out to help the batteries last longer, but the lawsuit alleges there is a connection between the age of the vehicles, recent fires and warranties.
According to the plaintiff, the update can cause a vehicle to lose up to 40 miles range on a single charge, and Tesla allegedly tries to avoid paying for repairs or replacements even when the vehicles are under warranty.
Although safety regulators haven't opened an official defect investigation, NHTSA says it will "evaluate the petitioner's allegations to determine if the petition should be granted or denied."