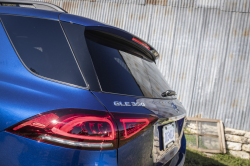 — Mercedes-Benz announced two small recalls affecting about 50 vehicles for two different safety issues.
A Mercedes-Benz rear window recall is needed because the rear windows may detach and fly off because they aren't properly bonded to the tailgates.
Recalled are 2021 Mercedes GLE 350, GLE 580, GLS 450, GLS 580, AMG GLE 53, AMG GLE 63 S and AMG GLS 63 S vehicles.
Mercedes-Benz dealers will replace the rear windows once owner recall notices are mailed December 21, 2021.
A second Mercedes-Benz recall includes 2020 GLS450, GLS580, GLE350, GLE450, AMG C63 and 2021 AMG GLE53 vehicles with defective rear seats.
Mercedes will mail recall notices December 17, 2021, and Mercedes dealers will repair the rear seats.
Owners of the recalled vehicles may call 800-367-6372.