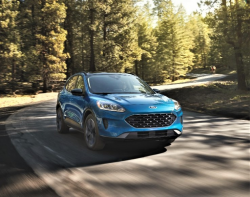 — A Ford hybrid class action lawsuit filed in Canada alleges three hybrid models are equipped with dangerous engines at risk of fires.
Included in the Canadian lawsuit are these vehicles equipped with 2.5-liter hybrid electric and 2.5-liter plug-in hybrid electric engines:
2020-2022 Ford Escape Hybrid
2022 Ford Maverick Hybrid
2021-2022 Lincoln Corsair Hybrid
The Ford class action contends that even though the hybrid vehicles were recalled for engine problems, the plaintiff who sued asserts the recall repairs don't fix the vehicles.
According to the class action lawsuit, the hybrid engines leak oil fluids and fuel vapors which build up under the hoods where hot exhaust parts are located. The Ford hybrid vehicles can suffer from smoke or fires while driving or while the vehicles are parked.
At least 23 underhood incidents of smoke and fires have been reported.
The class action alleges the recall repairs won't repair the engines because dealers are only decreasing the chance of fires but not fixing the cause.
Ford has instructed dealers to drill drainage holes in the shields under the engines and to remove four blinds from the active grille shutter systems. The lawsuit says a blind is a "segment of the grille shutter system that opens and closes to change air flow through the engine."
"This will allegedly to allow highly flammable pooled oil fluids and fuel vapors to escape from the Affected Class Vehicles' engine compartments. The Defendants, FORD US and FORD CANADA, have not even attempted to resolve the underlying engine issue." — Ford Canada class action lawsuit
The class action alleges leaking fuel and vapors creates an environmental hazard and can damage property. And the plaintiff claims, "removing several of the blinds from the active grille shutter increases aerodynamic drag on the vehicles, resulting in decreased fuel efficiency."
The Ford hybrid class action lawsuit was filed in the Supreme Court of British Columbia: Pardeep Kumar Sharma v. Ford Motor Company, et al.
The plaintiff is represented by Garcha & Company.