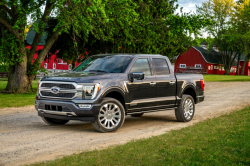 — Ford is recalling more than 1,000 vehicles that may look to be in PARK when they aren't.
The recalled 2022-2023 Ford F-150, Mustang, Explorer, Bronco and 2023 Lincoln Aviator vehicles are equipped with automatic transmissions.
The Ford transmissions may have loose bolts which could prevent the transmissions from engaging PARK.
The problem is deceptive because a driver could move the gear shifter into PARK and exit the vehicle, only for it to roll away.
And even though the problem is just loose bolts, the transmission will need to be replaced if the dealership finds problems during an inspection of the vehicles.
Ford transmission recall letters are expected to be mailed February 27, 2023.
Ford owners with questions should call the automaker at 866-436-7332.
Ask about Ford's transmission recall number 23S06.