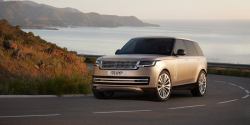 — A Land Rover Range Rover and Range Rover Sport recall involves more than 13,400 vehicles in Canada and the U.S.
The recalled 2022-2023 Land Rover Range Rover and 2023 Land Rover Range Rover Sport vehicles have second-row seat armrest storage compartment latches that may fail.
This can allow objects in the storage compartments to fly out in a crash.
The problem is a violation of federal safety standards.
Land Rover opened an investigation in January following reviews of a technical service bulletin concerning second-row armrest storage compartment latch repairs. Warranty claims and other reports were analyzed, but Land Rover confirmed the design met federal safety standards.
There have been no reported crashes or injuries, but Jaguar Land Rover is aware of 29 warranty claims in the U.S. received from October 14, 2022, to April 9, 2023.
Land Rover recall letters are expected to be mailed June 30, 2023.
Dealerships will replace the locking arms of the second-row armrest storage compartments. Owners may contact Land Rover at 800-637-6837.
Land Rover's number for this recall is N789.