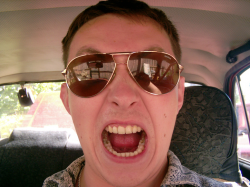 — Ford Motor Company has announced they are researching a so-called "intelligent system" that allegedly will help simplify your driving experience.
According to Ford, it's all in the sensors.
"Vehicle control inputs, sensors, road conditions and biometric information such as a driver's pulse and breathing can all be used to create a driver workload estimation that can then help manage certain functions in demanding situations," said Jeff Greenberg, senior technical leader of Ford Research and Innovation.
Ford says data from the systems of driver-assist technologies can be used to determine the amount of external stress on a driver. In addition, Ford is developing a seat, seat belt and steering wheel that can monitor the stress level of the driver.
The system uses sensors in the steering wheel rim and spokes to gather driver information. Metal pads on the rim can be used to measure the driver's heart rate.
Infrared sensors on the steering wheel monitor the palms of the hands as well as the face looking for changes in temperature.
But it doesn't end there.
Another sensor is embedded in the seat belt to track the driver's breathing.
Ford says the car will have the ability to adjust alerts provided to the driver and filter interruptions. This means if the sensors read you are under stress, incoming phone calls could be blocked.
While Ford places an emphasis on in-vehicle technology, it was technology that played a large part in their drop to 23rd place in the 2011 Initial Quality Study released by J.D. Power & Associates.
In 2010, Ford ranked fifth in the study.
Researchers said the drastic drop in ratings was primarily due to complaints over their MyFord Touch system, an in-vehicle technology that is supposed to make driving easier.
Ford has also been plagued by recalls that involve relatively simple items such as carpet padding, windshields, and sticking throttles.